Chicken Curry
May 18, 2014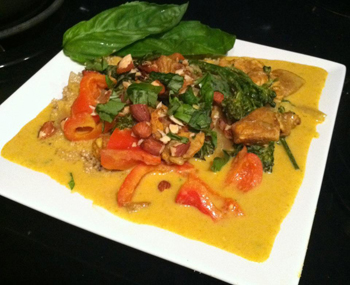 Curry is one of our absolute favorite easy dinners. Curry is traditionally served with potatoes, vegetables and a protein, but you won't find starchy potatoes in this recipe. I think it takes away from the delicious flavor of the curry. This is a homemade curry without the use of processed shortcuts. Don't worry though, this is a very simple recipe for nights you want a quick satisfying meal.
Food allergies/ restrictions
Gluten-free
Dairy-free
Paleo
Ingredients
1 lb. organic chicken
4 tablespoons curry
1 teaspoon cinnamon
1 can organic Thai Kitchen coconut milk
1 cup organic chicken broth
A few tablespoons high heat coconut oil for cooking
1 organic bell pepper
1 organic onion
1 head of organic broccoli
Organic basil
Handful of organic almonds
Arrow root or coconut flour for thickening
Organic rice/quinoa optional (can use any veggies-squash, zucchini, snap peas etc.)
Preparation & Directions
Cut chicken into 1 inch pieces and pat dry with paper towel. Combine curry, cinnamon, and chicken into a bowl and set aside.
Wash veggies in Veggie Wash and then rinse. Chop and slice all veggies and cook in a large pan or wok in high heat oil. Once veggies are almost fully cooked, remove and set aside.
Add chicken in the veggie pan and cook until almost done.
Add coconut milk and chicken broth to chicken. Once it starts to simmer, add the veggies back in.
Let simmer and thicken. Add arrow root or coconut flour to thicken.
While curry is thickening, chop up a handful of basil and chop almonds. Top the curry with both.
Serve with rice or without.