Paleo Pesto
September 7, 2014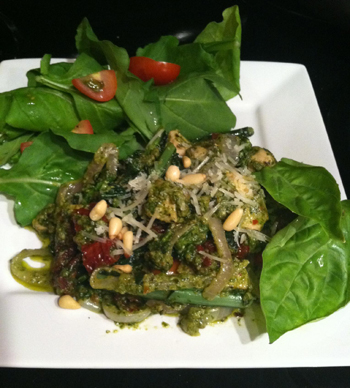 Eating paleo style doesn't mean you can't enjoy comforting classics like pesto. This meal is a favorite in our home, and we eat it a few times a month. Optionally you could add cheese or pasta, although you won't even miss them in this hearty dish. One of the many benefits to making your pesto from scratch is saving yourself the sodium overload and preservatives that often come in the store bought variety.

We usually eat our pesto sauce with a protein and a lot of veggies. Simple! However, you could use the pesto on top of fish, in sandwiches, pizzas, or add pasta or spaghetti squash.
This dish always makes us feel satisfied and healthy. I love all the green colors! It's a great balance of fats, protein, and veggies.
Food allergies/ restrictions
Gluten-free
Dairy-free
Paleo
Ingredients
makes 4 servings
Pesto Sauce
2 cups tightly packed basil
1/3 cup pine nuts
3 cloves garlic
A few sun dried tomatoes in oil
Dash of salt
Pinch of red pepper flakes
1/2 cup olive oil
Main Ingredients
You can use whatever veggies you like or have on hand. I like to use the following:
1 zucchini, sliced and quartered
Handful of Kale, de-stemmed and chopped
1/4 cup chopped red onion
1/2 cup broccoli crowns
1/2 cup cherry tomatoes
5 - 6 mushrooms caps chopped
4 - 5 small sundried tomatoes, chopped
1 lb chicken cubed seasoned with salt and pepper
Preparation & Directions
Prepare all veggies by washing and chopping.
Heat 2 tablespoons coconut oil in cast iron skillet.
Heat another 2 tablespoons of coconut oil in a deep skillet.
Added cubed chicken to cast iron and cook until all pieces are not pink.
After adding the chicken to the skillet, add all your veggies to your deep pan and cook until soft (if you chicken finishes, first just take off the heat and let sit. If you want your veggies to cook faster, add a lid on top and a touch of water).
While everything is cooking, prepare your pesto sauce.  Add all the ingredients into your food processor and grind until you have beautiful green color and nice consistency. Set aside.
Add cooked chicken to veggies and mix in pesto sauce. I like to let the flavor mix together for about 5 minutes. Then turn your heat down and stir occasionally.  You'll see all that flavorful oil in your pan ... just mix back in with your chicken and veggies.

Viola! Now you have created a simple, paleo version of pesto "pasta". Remember, you can add your favorite pasta alongside this dish or use shrimp. If using shrimp, make sure to devein and take the tails off. Add them to the veggies and sauce towards the end since they cook quickly. Once they are pink, they are done. You can also experiment with other veggies you like or have on hand.

I usually top the dish with a few pine nuts and serve a little gluten free garlic bread along side the pesto. There you have it! Homemade, organic, dairy free, gluten-free pesto!