Prosciutto Wrapped Asparagus with Aged Balsamic Glaze
October 4, 2014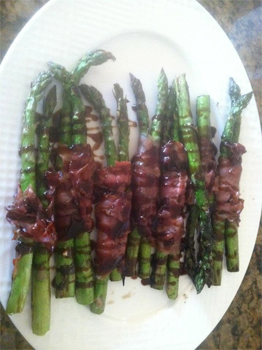 This is an easy appetizer to create, but is my favorite way to eat asparagus! The salty prosciutto mixed with the crisp asparagus and rich, creamy balsamic glaze make this dish so delectable and is a perfect dish to bring to a party. I like to get natural prosciutto that does not contain nitrates, organic asparagus, and it's not too hard to find organic balsamic glaze as well. This dish can be done on the grill and is even more delicious prepared that way!
Food allergies/ restrictions
Gluten-free
Dairy-free
Paleo
Ingredients
Asparagus
Prosciutto
Balsamic Glaze (I recommend Bonavita Organic Glaze)
Olive Oil or Coconut Oil
Preparation & Directions
Preheat oven to 450 degrees, and lightly coat a shallow baking sheet with coconut oil.
Trim 1 to 1-1/2 inches from the bottom of the asparagus spears; wash and pat dry.
Wrap a slice of prosciutto around 2 or 3 asparagus spears, and arrange them in a single layer on the prepared baking sheet.
Cook for 15 minutes, turning once, or until prosciutto is crisp and asparagus is tender.
Remove and drizzle balsamic glaze on top.
Transfer to a plate and serve immediately.

That simple! Such a great side dish or party appetizer! Enjoy!